Pulled Pork Grilled Cheese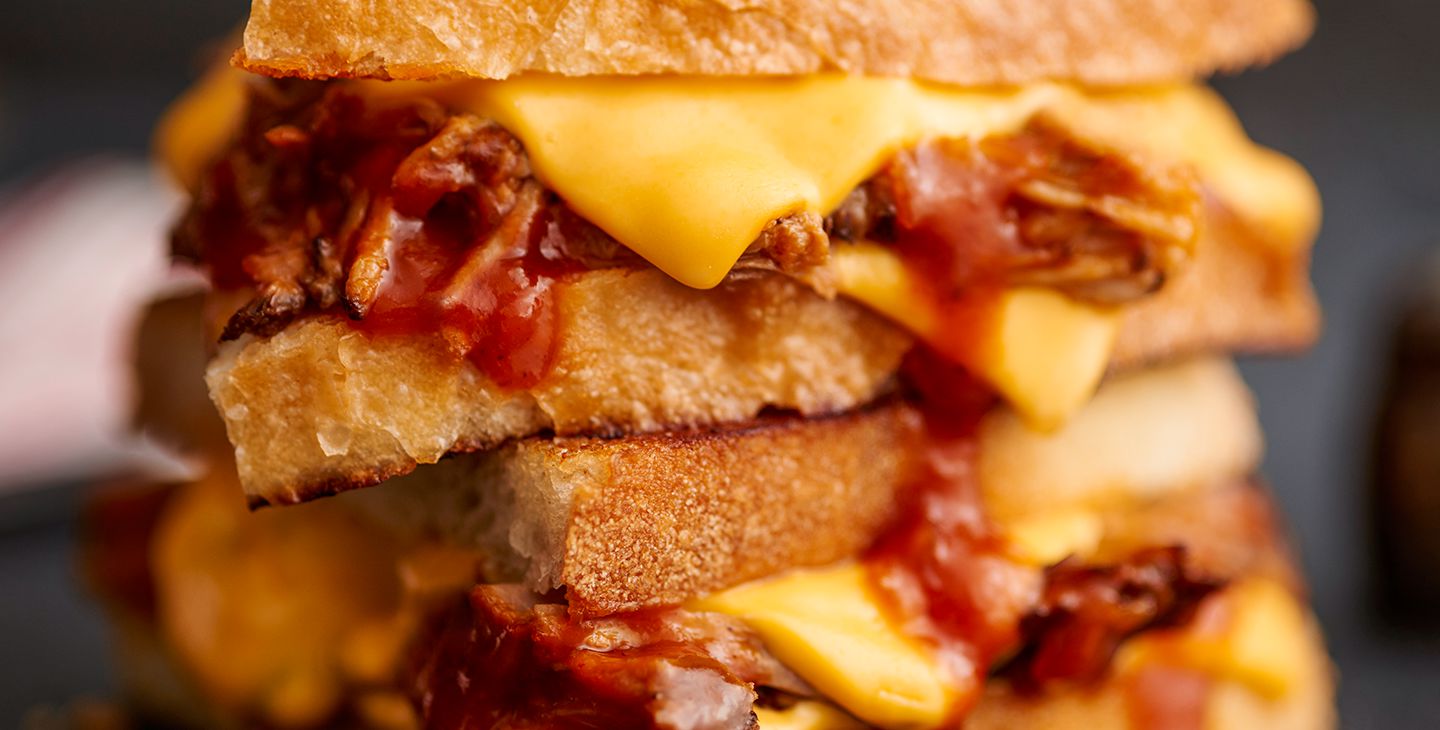 Ingredients
Barbecue SAUCE:
2 tbsp. Borden® Butter

1 medium yellow onion, diced

1 jalapeño, diced (optional)

1 cup ketchup

½ cup brown sugar

Liquid smoke, to taste
SANDWICHes:
1 loaf (1 lb.) sourdough bread, sliced

16 slices Borden® Cheese Singles Sensations® Extra Sharp Cheddar

3 lbs. pork shoulder

4 tbsp. Borden® Butter
Steps
BARBECUE Sauce
MELT butter in a medium-size skillet over medium heat. Sauté onions until soft; stir in jalapeños, ketchup, sugar and liquid smoke. Bring to a boil then reduce heat to medium-low and simmer for an hour or until sauce has thickened to desired consistency. 
Elsie's tips:  Feel free to personalize the sauce. Want it sweeter? Add more sugar. Want it spicier? Add more jalapeños.
Pork SandwichES:
SMOKE pork shoulder in a hot smoker for 3 to 5 hours at 210° F (internal meat temperature of 150°F). Remove, and wrap in aluminum foil. Refrigerate overnight.

REMOVE excess fat from pork. Using two forks, shred remaining meat into a large bowl. Mix in barbecue sauce.

BROWN 2 slices of buttered sourdough bread in a skillet or griddle over medium heat. Place a slice of cheese on each slice. Top with ⅛ of

pulled pork mixture, a second slice of cheese and another slice of buttered bread. Turn sandwich over when bottom slice has browned and brown the other side. 
Elsie's tips:  Use prepared smoked pork shoulder in place of smoking your own pork.