Spring has sprung and Easter time is here!
We love Easter for the opportunity to gather with family and of course for the yummy food that makes its way onto our dinner tables (magically and with zero effort, right Mom? 😉). Whether you opt for a traditional roasted ham this year or go off into uncharted territory — godspeed —  the Borden Recipes below are tried-and-true Easter staples. You can use them as accompaniments to your main dish, or they can work well together on their own.
Now all you have to do is find a great dessert!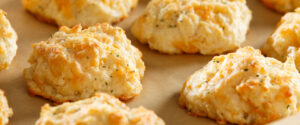 Some might argue there's no such thing as a bad biscuit, but let us cheese people be so bold and disagree: It's not a good biscuit unless you've got cheddar in the mix. You can choose Borden Mild Cheddar Shreds or Borden Sharp Shreds for these Cheddar Chive beauties, but either way when you intermingle the savory sass of the chive, magic happens.
Elsie's Tip:  Make an extra half batch and save them for the morning with the leftover ham and leftover cheese — the best breakfast sammies ever.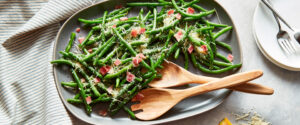 Whether you love veggies alone or need them dressed up a bit, one thing is true — every holiday table needs a fresh  beautiful green dish, especially in spring. Enter Garlic Parmesan Green Beans. If the meat eaters complain, just tell them they have bacon and Borden® Cheese Finely Shredded Aged Parmesan Shreds.
Elise's Tip: Got a green bean surplus after Easter dinner? Use them fresh in a Green Bean Casserole for dinner the next night!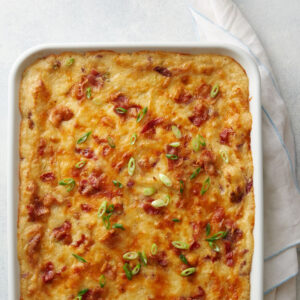 Just looking at this one makes us want to make it right. this. minute. Trust us, gooey Loaded Baked Potato Casserole will be the dish they all seek out for seconds and ask you about a year later. The legend is real. And if you're a cheese lover — which, of course you are —  you'll be extra happy. Cheese level: 11. 
| | |
| --- | --- |
| 1 cup | Borden® Cheese sharp cheddar shreds |
| 1 cup | Borden® Cheese medium cheddar shreds |
| 1 cup | Borden® Cheese mild cheddar shreds |
| 1 cup | Borden® Cheese whole milk mozzarella shreds |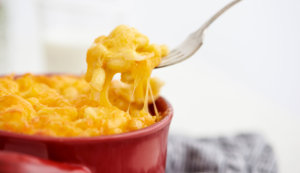 This mac and cheese is so good, Elsie herself had to put on her stamp (stomp?) of approval. It blends together  Borden® Cheese Colby & Monterey Jack Shreds and Borden® Cheese Triple Cheddar Shreds to form the perfect palate-pleasing combo of delicious cheese.  Second only to eating it — the gooey noodley sound it makes when you stir it up!
Elsie's Tip: If you only want to use one cheese, try Borden Ultimate Mac + Cheese Blend, created specifically for mac attacks.